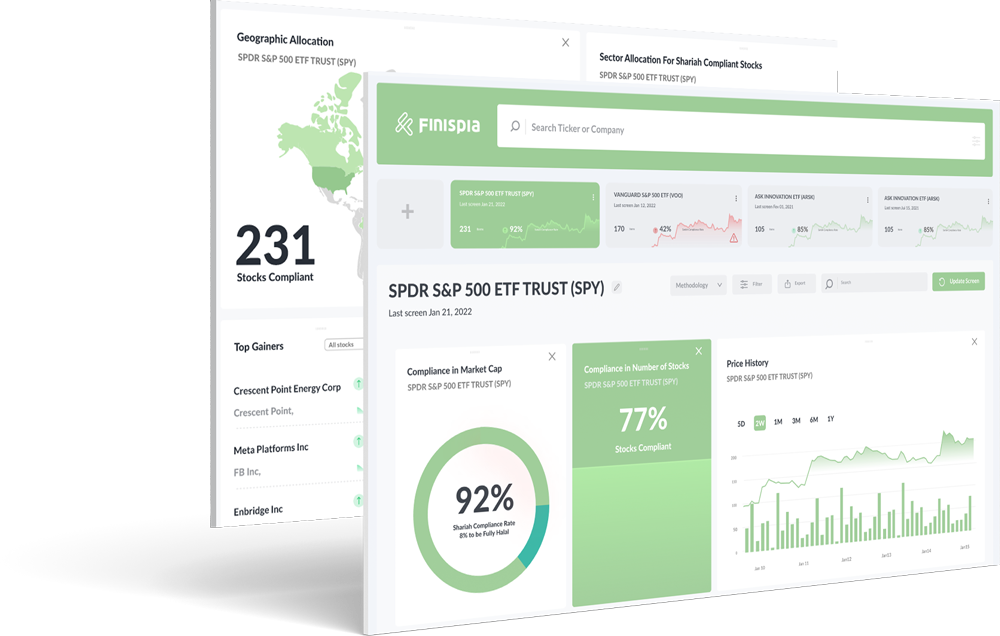 Corporate Solutions
Islamic Finance Technology
We stand for building a better world for ethical investors. We offer a fully customized solutions that fits your business need. Whether it is a Digital bank, Robo advisor, Wealth management office or brokerage, doesn't matter. We got you covered.
Halal investment Solution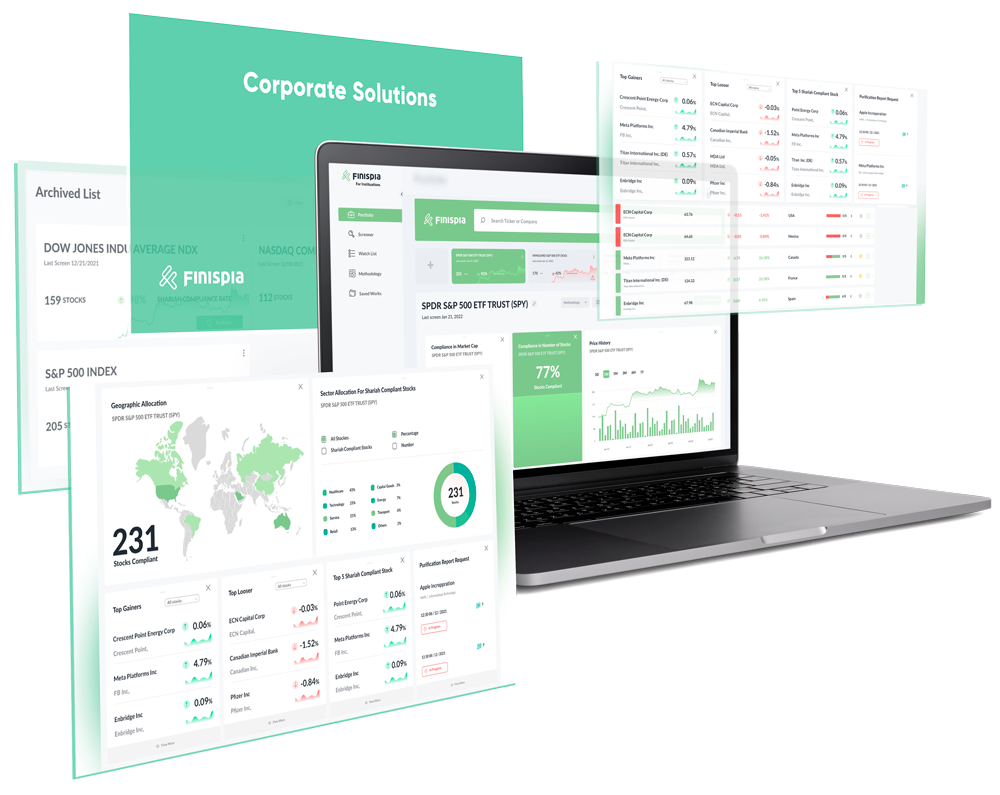 Built for Enterprises
To Empower
Fund manager
Shariah auditors
Treasuries
Islamic finance professionals
We help financial institutions, neo banks, funds and institutional investors to bulk screen index, market, funds and more. Identify investable universe based 5 Islamic investment methodologies or based on your own customized method.
Award winning software. Get a vetted and robust solution that's easy to put into place. You don't have to build a thing. Just plug and play.
Halal Working Capital Solution

Finispia Working Capital Solutions can be delivered under a white label. It assists companies to get or offer cash advance in their supply chain. The solution comes with different version including Dynamic Discounting, Early payment and more. SME financing is now accessible and compliant with your value. Connect with us to request a demo
White Label Technology
Your Brand. Your customers. Our Technology.
Instant ETF screening
Fully automated service to get ETF screening
Unlimited Portfolios
Flexibility to create the portfolio your want
Easy import
Import fund constituents and check compliance instantly
Five Halal Test Methodologies
Five Halal Standards means more chance to meet your customer need
Get Alert
Stay on the top of your portfolios
Export option
Export Halal stocks on format of your preference and start the real work
Wide Stock Universe
Find Halal Stocks in more than 90 stock Exchanges
Multiple users
You can grant access to up to 5 users from your organization
Watch list
Keep your hand picked stock in a watch list
Product available for corporates and financial institutions only.
To request a demo. Please reach out to us.
Excellence get Noticed
We have been nominated as the Most Reliable Islamic Fintech 2020 in North America according to the "Global Brand Magazine"..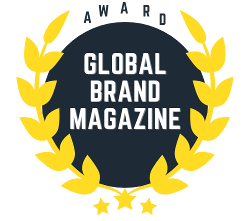 Screening methodologies inspired from
Five Islamic investment methodologies: DJ, FTSE, S&P, MSCI and AAOIFI.